On-Line Registration is now open
Registration for the 2020 Babe Ruth Baseball season will also be held at the Township Municipal Building on Stiles Ave. on the following dates:
Sunday January 19th 12:00pm – 3:00pm
Saturday January 25th 10:00am – 2:00pm
☞ A Parent or guardian and proof of age (new registrants only) is required at registration ☜
The registration fee is
$150 for one player and $225 for a family
One of our requirements is that parents (or an adult family representative) must work the refreshment stand during the year.
The officers of the league would like to let you and your son/daughter know, that any player that registers will be placed on a team.
In addition we have mandatory playing rules during the Regular Season.
All Players must play at least Two (2) Innings in the Field and get at least One (1) at Bat in each Full Game !!!
You can also take advantage of On-Line registration at:
http://www.teampages.com/forms/21297-Spring-Registration
The document Registration_Flyer.pdf was attached to this post.
We wish everyone a Merry Christmas and a very Happy New Year
Once Registration is officially closed for our Spring program, we will accept a player for a Waiting list.
The following process must be followed.
A request must be made asking to add the player to the Wait List.

The name, contact information and Date of Birth is required. 

The request must be mailed to the PO Box in an envelope with no return address and the word '

WAIT

' printed on the bottom left. 

The Board will maintain the envelope unopened until a player is needed.

At that time the envelope with the oldest post mark shall be opened and that player assigned to a team.
PO Box 122
Maple Shade, NJ 08052
Happy Hour
2018 Champions
Happy Hour defeated the Lions Club 22-14 to win the
2018 Maple Shade Babe Ruth Championship.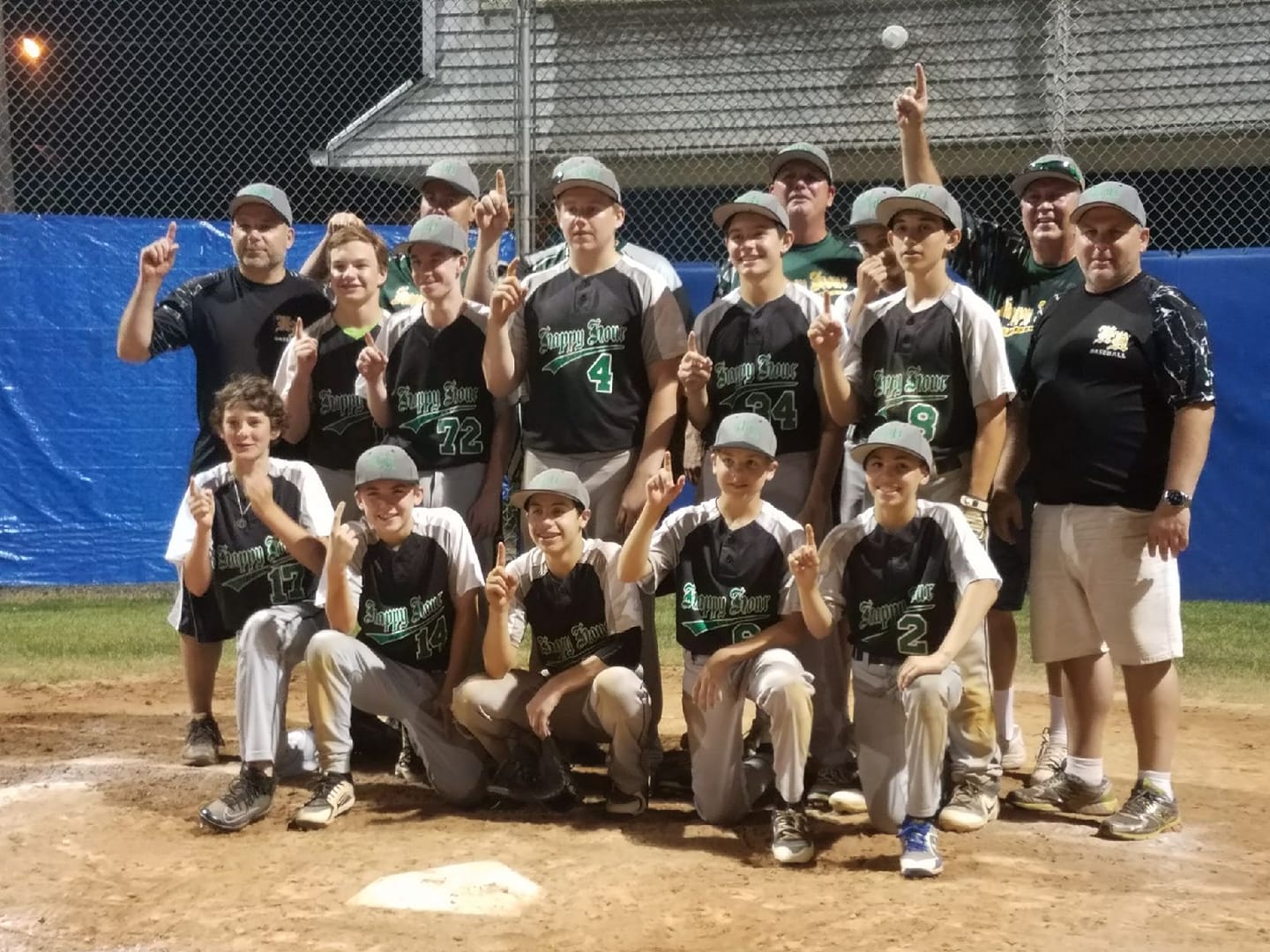 The 2017
Maple Shade Babe Ruth Awards Ceremonies
******************************
Our first Individual Award was 1st awarded in 2013 and it is the Fran Friel Award.
This award is in memory of our dear friend and Commissioner Fran Friel who loved the game of baseball and enjoyed watching the players as they grew and improved during their 3 years in Babe Ruth. This award is in recognition of the player who best exemplifies Fran's love of the game and shows the most improvement during their 3 years in our league.

The Winner - Zac Cordy
The next 2 awards were started in 1965 and have been awarded every year since. That was the year the league converted from Pony League to Babe Ruth League. During that summer 2 young men that played in the Maple Shade Baseball programs passed away.
The first was a young man named Bill Toth. Bill was in his twenties and had played in Little League, Pony League, the Community League and the M.S. team in the Rancocas Valley League. Bill worked for PSE&G and was killed in an accident at work. During his playing years Bill was noted as a fierce competietor, but always displayed good sportsmanship before, during and after the game. The founding fathers of MS Babe Ruth decided to give the Bill Toth Award to the player that displayed the best sportsmanship during their time in Babe Ruth.

The Winner's - Reese Dawson & Pat Whelan

The final award is named after Kenny Seigel. Kenny was only 15 years old during that 1965 season. He played on Marquart Finishing who won the league championship that season, but before the banquet that year, Kenny contracted spinal meningistis and passed away. Kenny was the best pitcher on Marquart. He was also a very good basketball player and a straight A student. They decided to give the Kenny Seigel Award to the player who was both a good athlete and a good student.

The Winner's - Nick Natale & Jake Ormsby